Canyon De Chelly - 23 minutes
The Story of a Craftsman - 20 minutes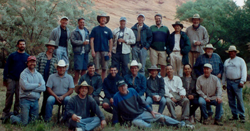 Organized by
Karl Dempwolf
and
Vic Riesau
in the early months of 2003, which grew to 21 nationally and internationally known artists. All of us had heard of the canyon's legendary beauty,and had been inspired by paintings by Edgar Payne, Maynard Dixon and others. However, when we gathered at the canyon campsite and beheld the surroundings first hand, none of us was prepared for the overwhelming beauty of the sacred grounds with its brilliant colors and majestic cliffs which were once the home of the Anasazi, ancient ancestors of the Navajo.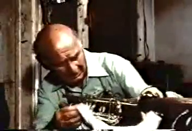 Before becoming a full-time painter,
Karl Dempwolf
produced educational filmsand documentaries. His film,
The Story of a Craftsman
, the story of
Dominick Calicchio
, the last handmade trumpet maker, won the coveted CINE Golden Eagle Award, the Silver CINDY award, and Best of Show at the Bellevue International Film Festival in Washington.